Description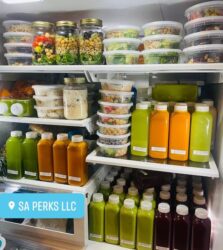 Lifestyle Change and Permanent Fix!
We are here to provide you with clean eating and drinking customized packages.
Our goal is to become your lifelong nutrition provider. We customize whole plant-based drinks and meals but can include animal-based protein to meet you where you are in your nutrition journey.
You can place your order and we will contact you to review your goals or you can contact us directly at 210-717-0274 or at orders@saperks.com to learn more about our "Workweek Nutrition Packages."
We work to fit your nutrition goals and budget!